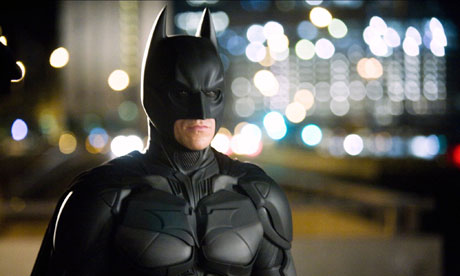 The Dark Knight Rises
is an excellent and suspenseful Christopher Nolan action film. But is it a "Batman movie"? Not quite. I can see why Nolan originally wanted to title his third movie
Gotham
before Warner execs demanded a title to closer link it to the Heath Ledger installment. This movie is more about various characters in Gotham City than it is about Batman. Of the three Nolan films, I'd say Batman gets the least amount of screen time in this one, even though in
Batman Begins
Batman doesn't even appear until the second half of the movie (of course I am treating "Batman" and "Bruce Wayne" as separate characters in this analysis).
The film opens (after a quick but effective glimpse of a Harvey Dent memorial) with a James Bond style sequence of Bane abducting a Russian scientist from an airborne plane. Bane is a C-list villain in the comics, and in this movie, he is adequate. But sorely missing is the charisma of an A-list villain like the Joker, played with the charisma of an actor like Heath Ledger. Tom Hardy plays the character in a rather cardboard cutout way. With his anesthetic mask on constantly, and an overdubbed Darth Vader voice, any stuntman really could have played the part. Nolan could have brought back the pro-wrestler who played Bane in
Batman & Robin
, and just had Hardy dub in the voice. It wouldn't have mattered.
From there we get caught up with what Bruce Wayne has been doing since the last movie. Now partly crippled, he has become a Howard Hughs style recluse. Selina Kyle (never called "Catwoman" in the film), poses as a maid at a charity event at Wayne Manor, and steals Martha Wayne's pearl necklace and Bruce's fingerprints. Bruce confronts her, and she escapes. Anne Hathaway as Selina is good but lacks that something special that made previous Catwomen like Julie Newmar, Lee Meriwether, and Michelle Pfeiffer iconic.
We are introduced to all the other characters in the Gotham ensemble piece, like Joseph Gordon Levitt's rookie cop John Blake, veteran cop Foley played by Matthew Modine, the Animated Series' Dagget played by Ben Mendleson, a priest who runs an orphanage played by Chris Ellis, and Miranda Tate played by Marion Cottliard, who as expected, turns out to be Ra's al Ghul's daughter Talia.
Jim Gordon gets shot in an encounter with Bane, and Blake goes to Wayne Manor to reveal to Bruce he knows he's Batman. How he figured this out is kind of murky. I think it had something to do with him recognizing the big boil on Bruce's right eye is the same as the one Batman has under his eye makeup. Bruce, in a ski mask, visits Gordon in the hospital, who urges him to come back as Batman.
Selina robs more people, Bane continues his master plot, and lots of other stuff goes on. Finally, Batman returns (funny how his crippled leg is cured with a simple leg brace) to stop one of Bane's terrorist acts. This scene is very good and well done. Some more stuff happens, including Alfred quitting, then Batman and Bane have another fight, which ends with Bruce having his back broken and being dumped into a pit on the other side of the world. After this, the movie starts to get a little boring. Things pick up momentarily when Bane implements his terrorist act on a football stadium. He gives a speech that sounds eerily like a Barack Obama speech, albeit in a Darth Vader voice. Bruce watches this all from the pit (ain't cable great).
In a nod to real life events like the Occupy movement, the inmates take over the asylum, so to speak, as Bane threatens to destroy Gotham with a nuclear bomb. Cillian Murphy as Johnathan Crane conducts a court trial against citizens, making the Scarecrow the only villain to appear in all three Nolan movies. Bruce ultimately escapes the pit (miraculously healed of all his injuries without any hospitalization... who needs medical insurance!), becomes Batman again to lead a city wide riot of cops vs Occupiers in broad daylight. Hey, wait... Batman's not supposed to appear in daylight. Imagine the outcry if Tim Burton would have done that. But Nolan gets a pass it seems. Bane is defeated by Catwoman shooting him with a gun on the Batcycle. Hey, wait... Bane's not bullet proof. This means, the state police or army could have had a sharpshooter take Bane out at any time. Major plot hole. Batman uses the Batcopter (which several times in the movie the point is made it does not have an auto pilot) to fly the bomb over the ocean, sacrificing his own life, after tipping Gordon off to who he really is. A memorial is held for Bruce, and a statue is erected to Batman. Then Lucius Fox realises the Batcopter did have an autopilot after all (considering it was edited to look like Batman piloted the Batcopter until the last moment, instead of ejecting as soon as the Batcopter got over water - which would be more logical - then for Batman to escape, the Batcopter must have had an escape pod, as well as an extra large can of nuclear neutralizing Bat-spray). Bruce winks and nods to Alfred at an outdoor cafe, and Blake is summoned to the Batcave to either become the new Batman, or to become Robin. Its left ambiguous.
Michael Caine sits most of this film out, as he quits Bruce early in. I never bought him as Alfred. When I think of Alfred, I think of a proper British butler, not the cockney commoner Caine. Morgan Freeman is excellent as Lucius Fox, as was Gary Oldman as Gordon. Joseph Gordon Levitt was fine as Blake, as he seemed to be the character Nolan was really emphasising. Then there's Christian Bale. His Bruce Wayne is acceptable, but his Batman never worked for me. Between his frog voice and Hardy's muffled voice, some of the dialogue seriously needed subtitles. I never cared for the bat costumes in this trilogy. Bale looks very awkward as Batman. The mask face opening is far too narrow, and serves to emphasise how narrow Bale's jaw is. In this movie, he seems to breathe through his mouth when in costume, giving Batman a bit of a short school bus passenger look, if you know what I mean.
Nolan takes liberties with the characters. Bane is severely altered from the comic books, although the comic book Bane wasn't much more than a C-list villain to begin with. The John Blake character is a composite of Dick Grayson, Paul Valley, Tim Drake and Terry McGinnis. Talia is unrecognizable as the comic book Talia. Selina is altered a little. Batman doesn't even get the final victory over Bane. Selina does, and then rubs it in Batman's face by telling him how his "no guns" policy doesn't work. The finale where Batman apparently sacrifices his life is too similar to
Captain America: The First Avenger.
Overall, this movie falls in the middle of the Nolan trilogy. Not as good as
The Dark Knight
but not nearly as excruciatingly boring as
Batman Begins.
Normally I am not for reboots, but this time I welcome it. The Nolan-Bale celebration of depression Batman is over. May it rest it peace. At best, I consider it an "Elseworlds" version of Batman. Time to move on. Bring on a new take, a more fun take that is not obsessed with uber-realism. How about reuniting Tim Burton, Michael Keaton, Jack Nicholson, and Michelle Pfeiffer for a live action adaptation of Frank Miller's
Dark Knight Returns
? Perhaps in the weeks ahead, I will post my own hopes for the reboot in detail.
And just in case there are some "in Nolan we trust" fanatics reading this, at the end of the day, this review is my opinion. You have yours, I have mine. No need to get upset over it. Why so serious? It's just a movie.